Company Video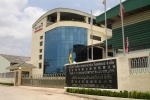 TAIKIN is a manufacturer of Mold Bases, Die sets, Precision mold inserts and finished steel plates and tooling Accessories for the Plastic Tooling, Metal Stamping, and Aluminum Die casting Industry. Providing manufacturing services and established in Thailand since 1990. It is one of the leading and biggest manufacturers of Standard and Custom made Mold Bases in Thailand. With intensive effort and innovative ideas of our expert team, we have successfully developed Tai Kin into an industrial group. Taikin mold base belongs to Taikin group of companies which is well known in Thailand industries. read more...
Learn about Taikin Products
Tai Kin Mold design and build tooling and patterns for a variety of molding processes, including investment casting, permanent mold casting, sand casting, die casting, lost foam casting, powder metal, die forging, injection molding, blow molding, extrusion, thermoforming, compression molding, rotational molding and others. read more...